Since 2008, MOCAP has been successfully grown up Contact Center/BPO/Market Research with the solid position for the outsourcing industry in Thailand. We are providing global quality services of Contact Center/Market Research/BPO to utilize global networks and global knowledge.
MOCAP has Strong Relationship with Shareholders
Mitsui Utilizing our global operating locations, network and information resources, we are multilaterally pursuing business that ranges from product sales, worldwide logistics and financing, through to the development of major international infrastructure and other projects in the following fields: Iron & Steel Products, Mineral & Metal Resources, Infrastructure Projects, Integrated Transportation Systems, Chemicals, Energy, Food, Food & Retail Management, Healthcare & Service, Consumer Business, IT & Communication Business, Corporate Development Business. Global Quality
Loxbit is one of Thailand's leading information and communication technology services companies, providing customers in industry and government with solutions designed to meet their specific challenges and enable them to profit from the advanced use of technology.
Altius Link aims to become a leading company in digital BPO industry by advancing the sophistication of services through digitalization Altius Link will transform conventional contact centers into digital contact centers, making it possible for customer support to evolve into customer service to ensure the growth of our client companies. The company will also utilize the technologies, networks, and global industrial know-how of the KDDI and Mitsui & Co. group to expand digital BPO services throughout Japan and the rest of the world.
MOCAP has Global Standard Quality of Service
At MOCAP, we provide good quality of service to all our clients from all industries because we believe that by delivering high quality of service we will be sustained. Our business is driven by 2 key factors, People and Process. This is why we work very closely with our client to understand their business process and gap analysis in order to ensure that we are well represent our clients. Clear process helps to reduce frustration, our team is working with client to identify any process redundancy. Reduce redundancy will not only reduce frustration but will also reduce waste in the process thus reduce cost and improve efficiency.
At MOCAP, we help clients to add value to their service proposition and grow together. Our quality standard is world class and second to none.
MOCAP has Strong Security Policy
MOCAP has strong security policy to protect security information of clients as outsourcer. We have been implemented security protection by physical and education to employees

ISO Certification
ISO 27001:2013 Information Security Management System (ISMS)

Information Security Control Rule
Corporate Standard Security Guideline

Confidentiality Agreement
Agreement between company and every staff

Prohibited Action List
Improve and maintain the mind set toward information security

Voice Recording 100% (QA/QC)
All of conversations  are recorded at 100% and checked by QA/QC staff in every day.

CCTV 24 Hour Management
Every space  of our office have equipped with CCTV system.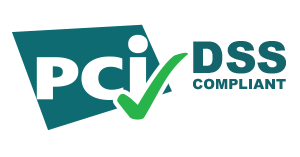 MOCAP The First PCI DSS Certified
Contact Center / BPO Outsourcing in Thailand 
PCI DSS v3.2.1 for Online Payment Security Your Content Goes Here

Protection of Card Holder Data and securing credit card transactions

Provides baseline to other security standards and/or client's due diligence

Limits access & exposure to sensitive data, thereby reducing the impact in the event of data breach

Adds value to brand and confidence in credit card transactions

Firewall, network protection and system hardening against external attacks and un-authorized access

Builds trust with clients by putting information security at the forefront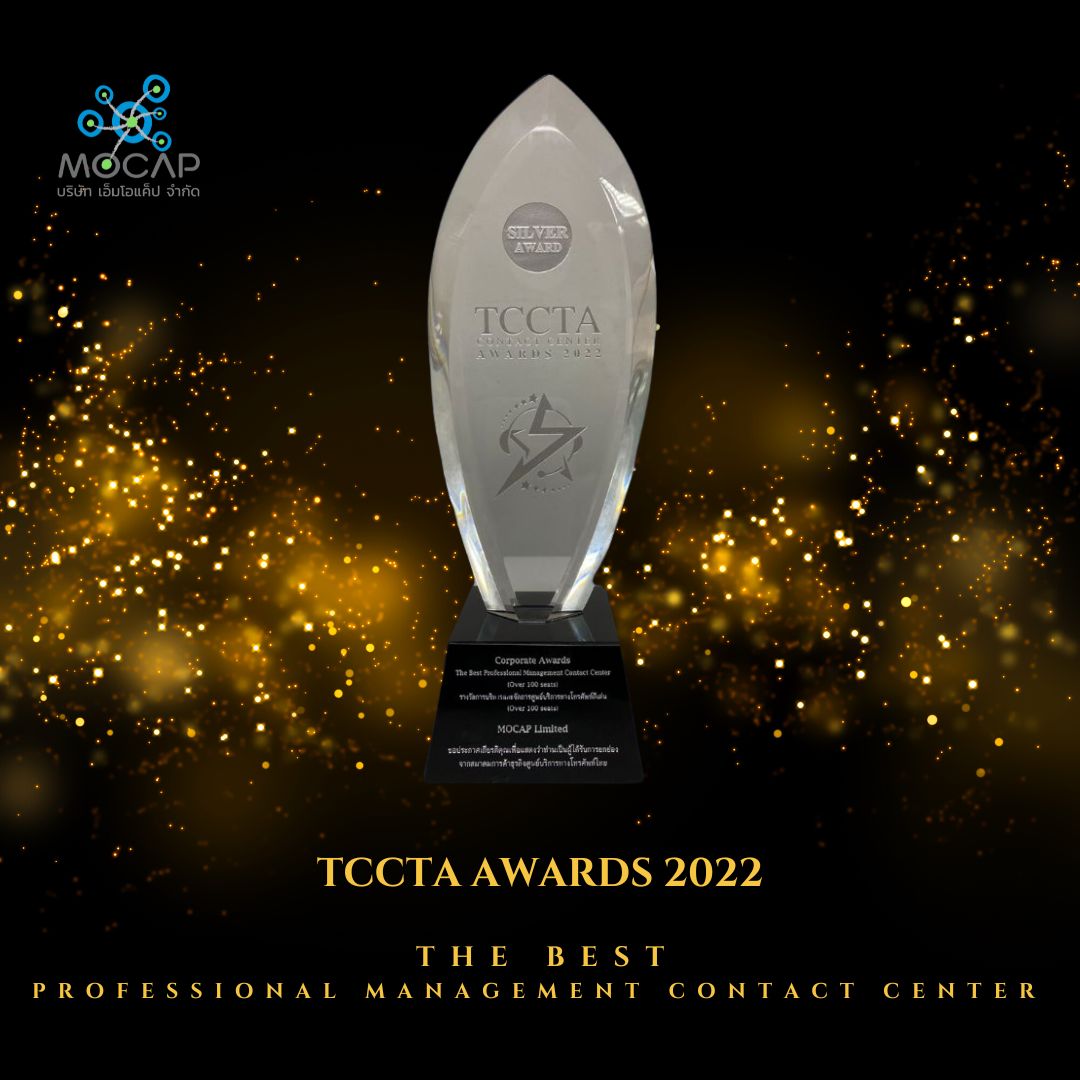 TCCTA Awards 2022
MOCAP is a proud member of Thailand Contact Center Trade Association (TCCTA) and our continuous strive for excellence has earned several awards as an individual and corporate category. On 12th October 2022, we have participated and won 6 awards under these categories

TCCTA Awards 2019
MOCAP is a proud member of Thailand Contact Center Trade Association (TCCTA) and our continuous strive for excellence has earned several awards as an individual and corporate category. On 7th August 2019, we have participated and won 5 awards under these categories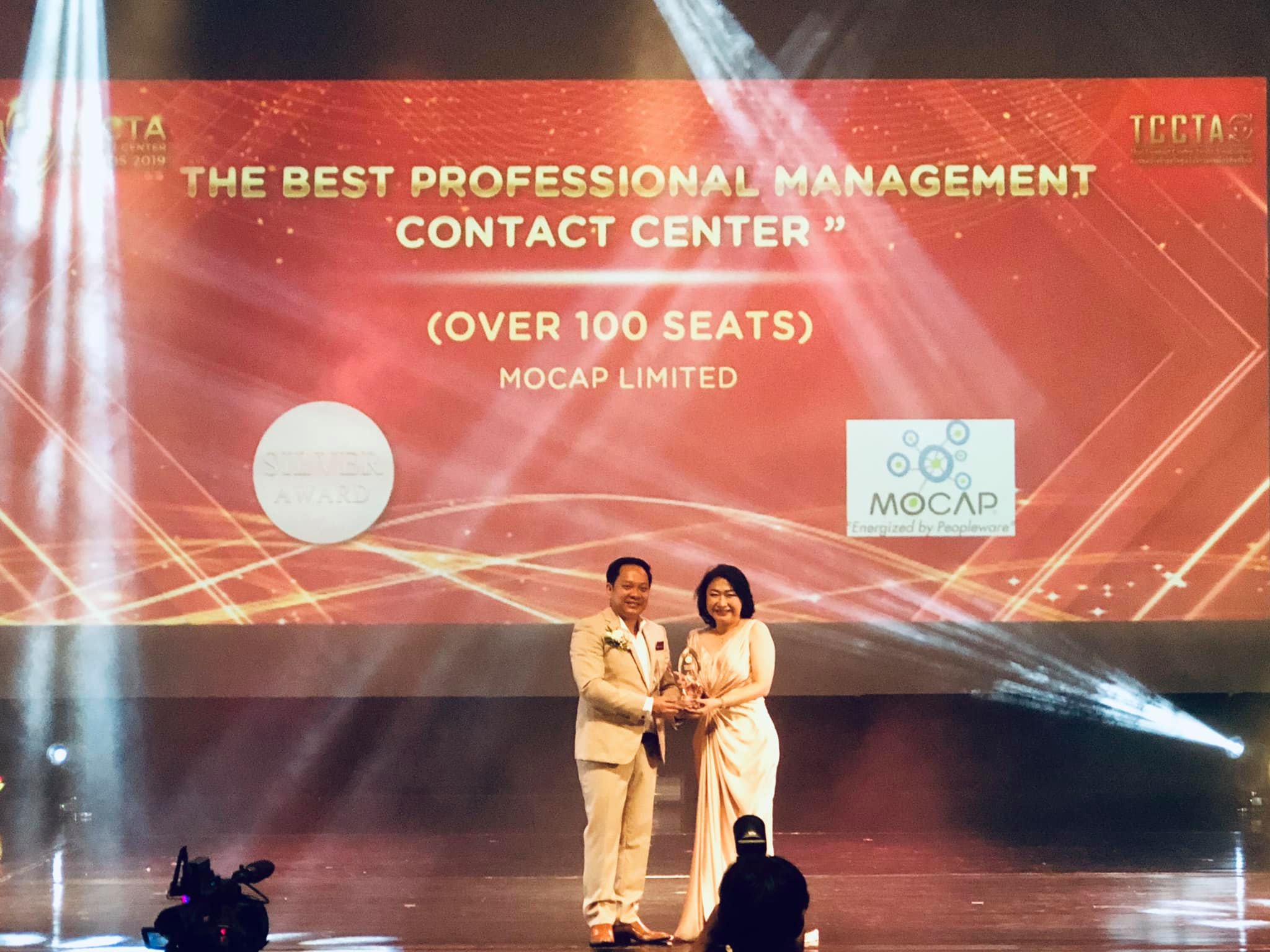 Corporate Award : The Best Professional Management Contact Center Over 100 Seats
Ms. Chutima Tnawitkitikorn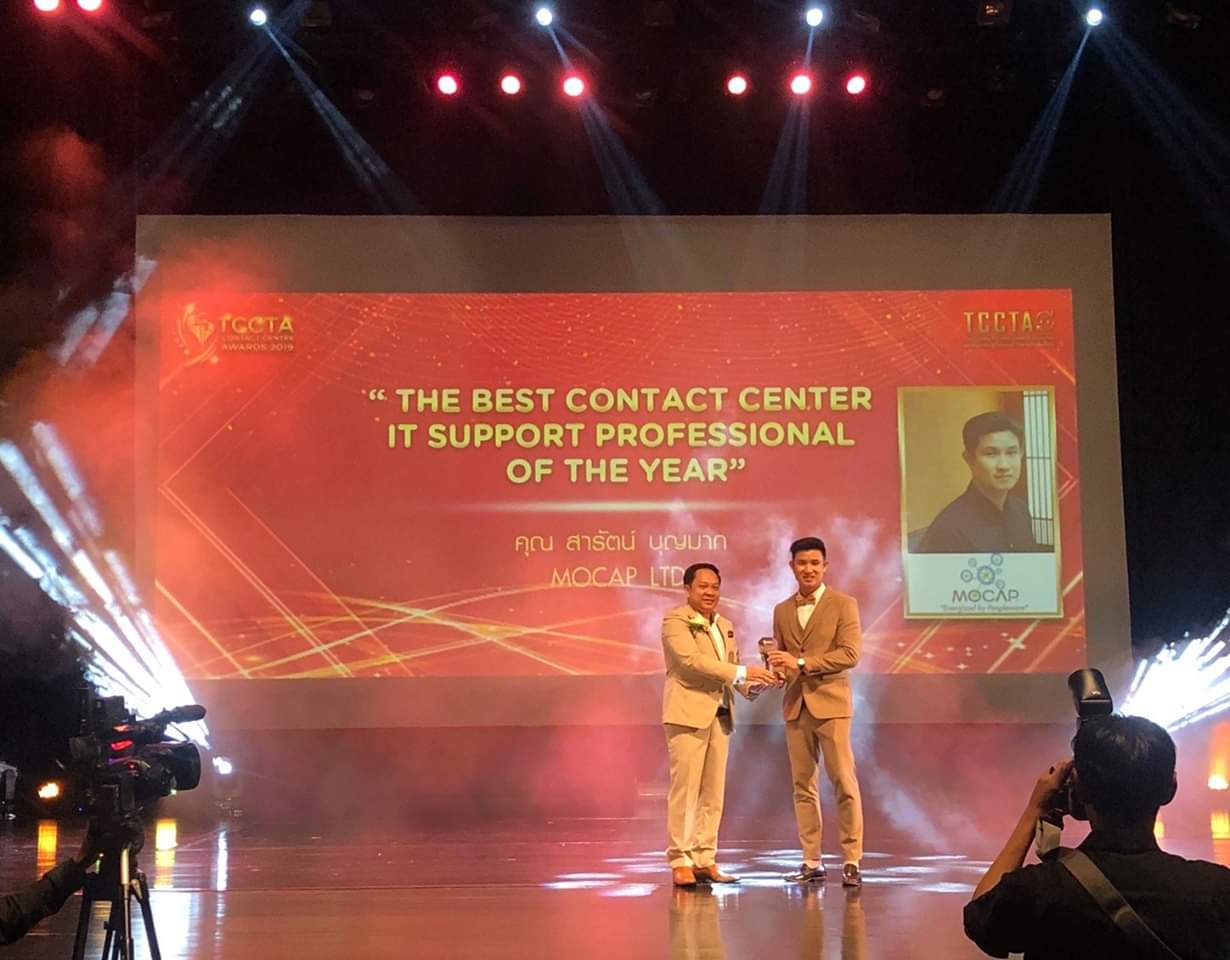 Individual Award : The Best Contact Center IT Support Professional of the Year
Mr. Sarat Bunmak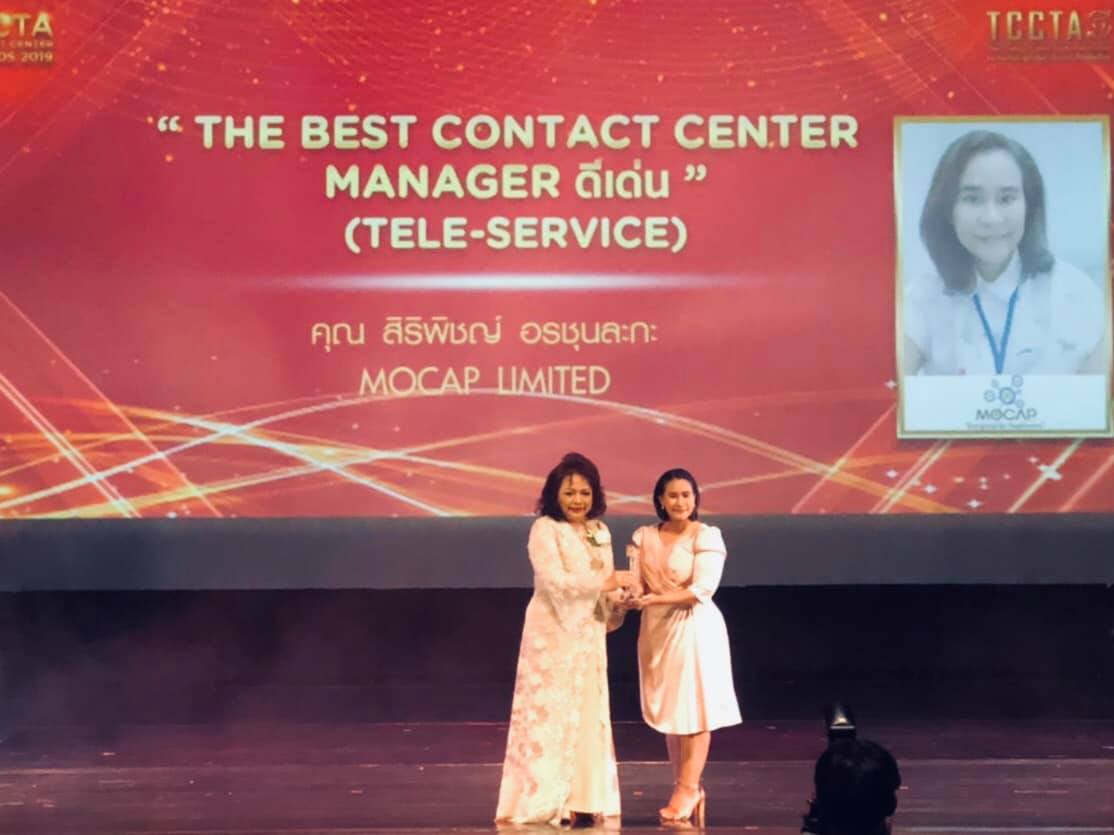 Individual Award : The Best Contact Center Excellence Manager (Tele-service)
Ms. Siripich Or-rachunlaka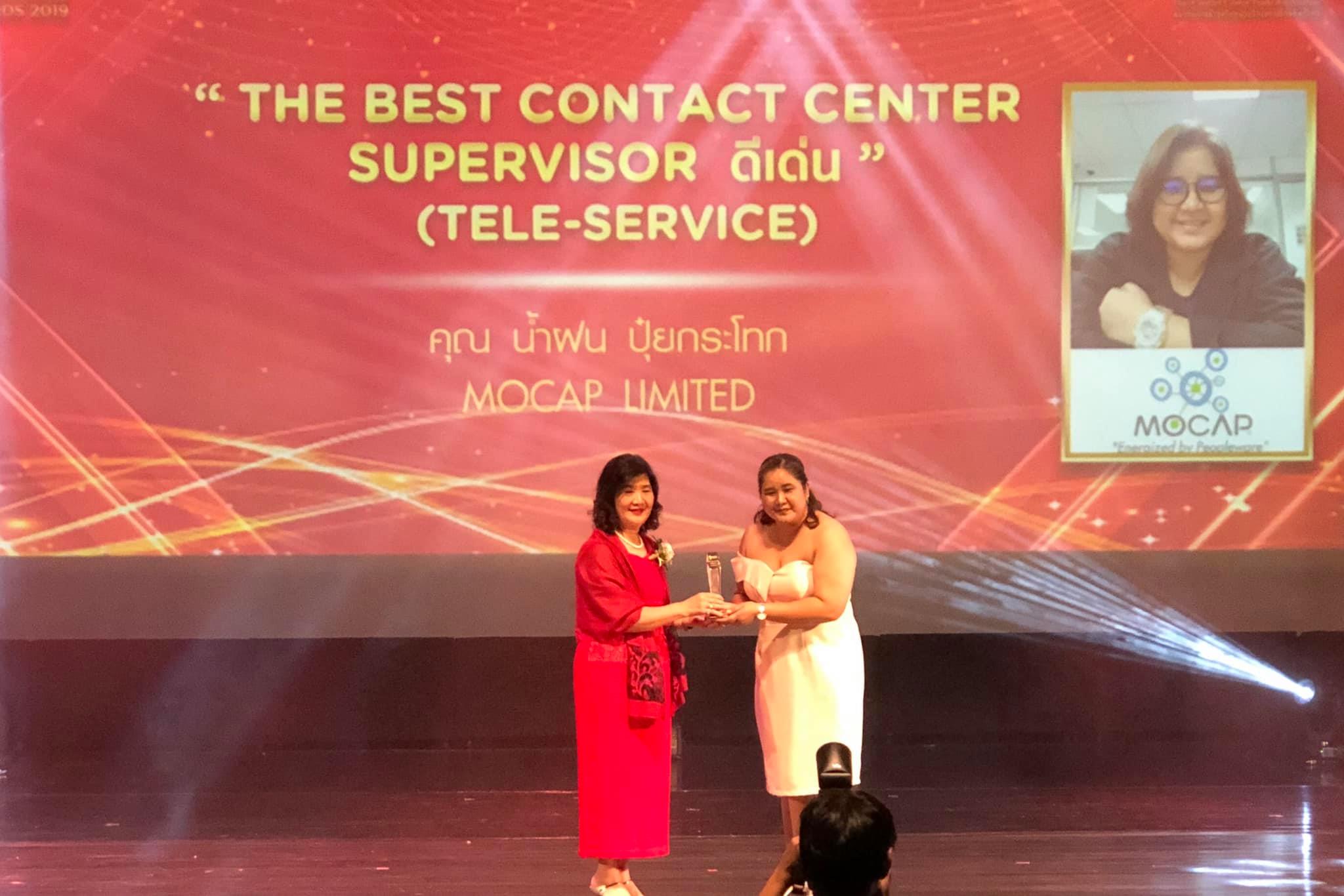 Individual Award : The Best Contact Center Excellence Supervisor (Tele-service)
Ms. Namfon Puikrathok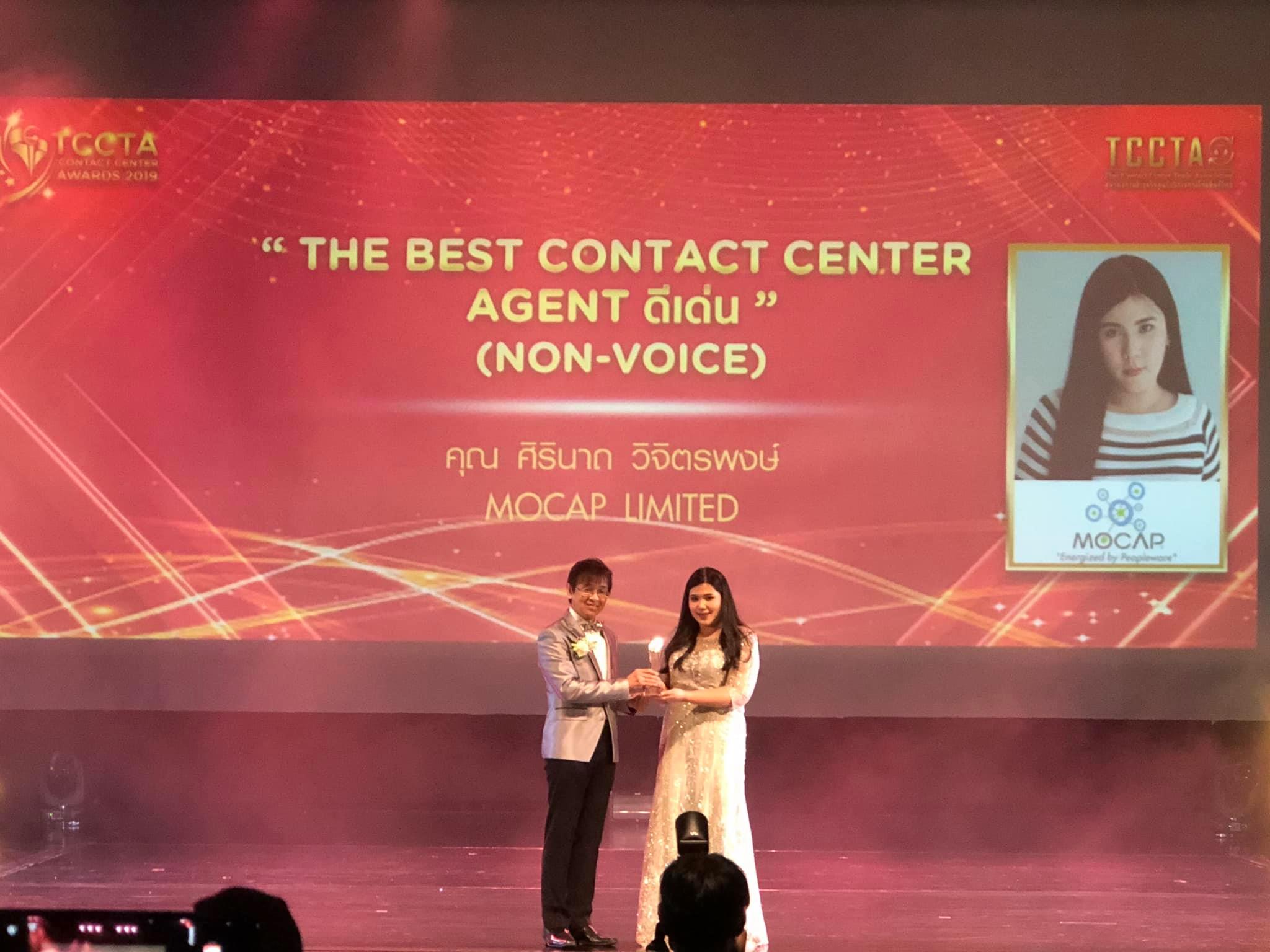 Individual Award : The Best Contact Center Agent Excellence (Non-Voice)
Ms. Sirinart Vijitpong